TSUNAGARI Project
agnès b. Interview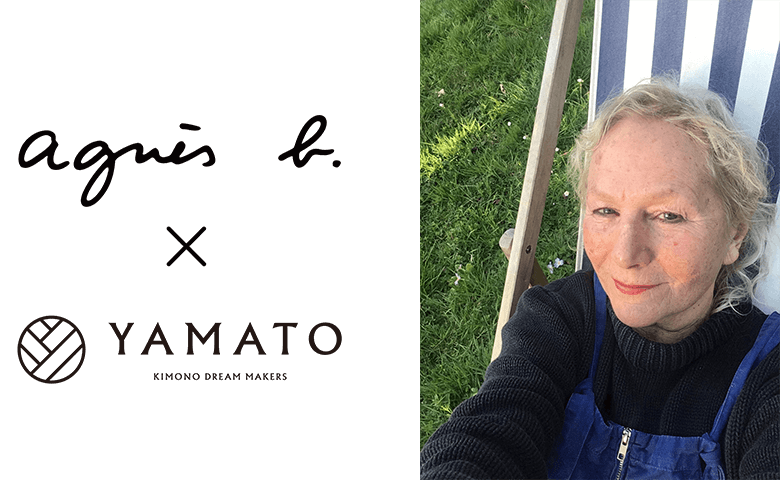 LONG-AWAITED PROJECT WITH "agnès b."
Talks with agnès b. about her thoughts about this collaboration and the culture between French and Japanese.

French brand "agnès b." collaborated with Yamato for "agnès b. Kimono".
Agnes Trouble known as designer "agnès b." talked about her thoughts about this collaboration. The collection are the Yukata (summer casual kimono) made of french textile from agnès b., and Combinazon (workwear) piece made of kimono textile from Yamato, produced with respect of each others country's culture.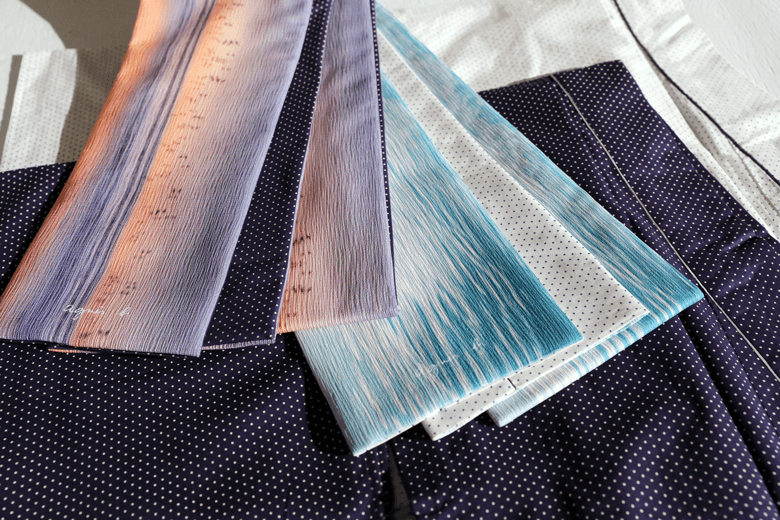 Q1. The "kimono style" has appeared in agnès b. collection in the past.What do you find fascinating about the kimono? And, how did you decided to start the collaboration with YAMATO?
My collaboration with Yamato started with an invitation from Mr Yajima, the president of Yamato through the introduction of our Japan office. I was delighted to accept.
I have always been fascinated by the Japanese kimono. I love its lines which give it so much grace, elegance and modesty. It was also a way to pay tribute to Japan and its traditions.
Q2. This concept "a touch of Paris" was a phrase from a letter from you. What is the uniqueness of Paris in your mind?
Paris, since the 17th century when Versailles was made, is a city that has shone to the world. It has the tradition of elegance that continues today… even the everyday young Parisian girls riding their bicycles show an elegant simplicity of Paris.
Q3. In your clothes collection, there are always a series of iconic photo printed clothes. What are your thoughts about photo printing?
I love photos and love taking photos and have been photo printing them on clothes for more than 10 years. I produce clothes with photo printing and develop original prints using photos. This time I chose the rising sun photo which I shot myself, to use for the obi belt , recalling that Japan is "the country of the rising sun".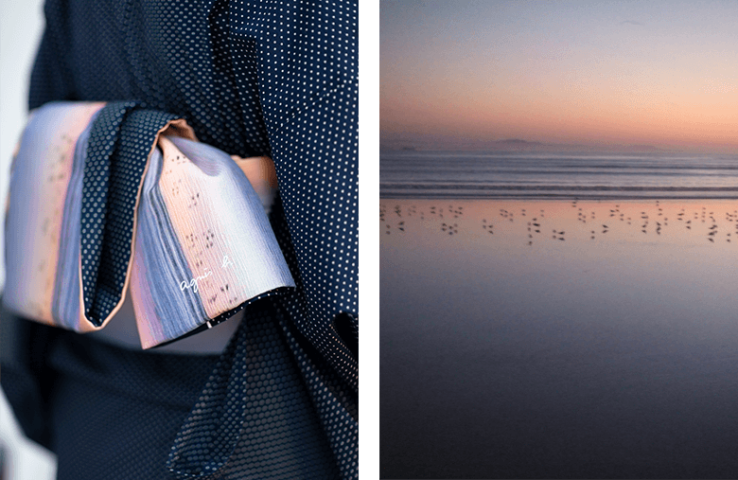 Q4. In what scene was this photo taken? What situations led you to take these photos?
It was probably on holiday when I took this picture… actually I take pictures all the time! It's a just a little precious moment in my daily life at my home, in my garden, on the streets, at night, with my artist friends…I love photography!

Q5. You made combinaizon (workwear) with kimono fabrics, what inspired you to think of this material?
My fascination for the Japanese kimono was triggered from my love of cinema.
I have been fascinated by movies such as An Autumn Afternoon by Ozu, Vivre and Dodeskaden by Kurosawa and also Le Samouraï by Jean-Pierre Melville.

Q6. How did you choose the fabrics for the Kimono?
I chose a very iconic agnès b. fabric with the small polka dots. I have designed many dresses and men's shirts with this simple and elegant pattern. While collaborating on this project with Yamato, we shared many insights with each other and was a very fulfilling project.
Q7. How do you imagine the future of the work of artisan in France?
I wish with all my heart that tradition and culture, education are perpetuated to keep all our beautiful know-how. Not just France, but for all countries. I once went to Kanazawa to work with the artisans at Kanazawa Utatsuyama Kogei Kobo. I was amazed at their works in their specific fields of ceramics, glass, metal casting, urushi lacquer and material dyeing and weaving. These various techniques should be protected and continued for the future.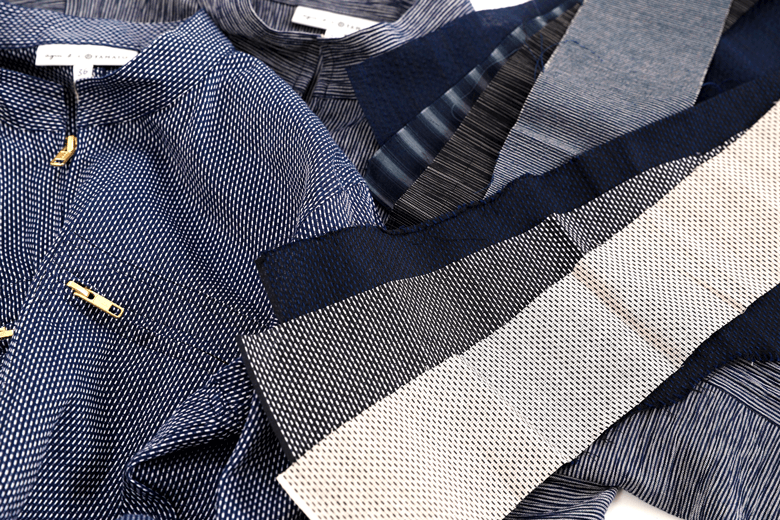 Q8. Yamato collaborated with you as a part of "TSUNAGARI Project" to create a bridge between kimono and the world of kimono. The mission of the project is to increase peoples positive mind and thinking through kimono. What do you think would be a great connection with the world and Japanese kimono? What could of road map would your heart drive you?
The Japanese kimono is a link between the past and the present. It makes me think of a beautiful kimono that was once gifted to me. It was a simple black one with a design in the back with the route from Tokyo to Kyoto, in other words it was exactly a map... it was very poetic memory.
LINE UP